Who says a photographer has to give up being stylish? Personally, I love the aesthetic side of things, so I like having a camera bag that's not just practical and handy, but also suits my personal style. So in my free time, I carry The Brixton – [ONA] Camera Bag!
THE BAG – First impressions
My initial reaction when I first saw this bag was whoa!!! No other way to say it! The leather is really top quality, and it has a tough-yet-charming look that'll only improve with age – normal wear on the leather will just lend it greater charisma. The straps and buckles on the front are super stylish, as are the handle, the shoulder strap and the stitching, all elements that make it a perfect bag to complement an urban look like mine, as well as one that's a little more hipster or retro.
COMPARTMENTS AND DETAILS
The bag has two front compartments that can be accessed only by opening the main part of the bag, plus two smaller side ones that can be utilized even with the bag closed. The two front pockets are big enough to hold a book or an iPad/tablet each, and are well protected even if it rains. The side ones, just right for mobile phones, aren't really usable on rainy days, though. The interior lining is in soft padded cloth, ideal for a camera, a couple of lenses and a MacBook/iPad. There are 4 internal compartments created by 3 removable and customizable dividers, plus a space for a 13-inch MacBook or for you iPad/tablet. The cool thing here is that, unlike in many other bags, the portable computer holder is also removable, so if you don't need it, you've got more space for whatever you want inside.
The bag easily holds a professional camera, plus two lenses. It's not particularly deep, so it can't hold a flagship model with a lens attached, but that's not the point of this bag, since it was designed for everyday use, and not for carrying high-level professional equipment for work. The bag is very sturdy, and what you keep inside is safe from rain thanks to two lateral protectors that keep water out when the bag is closed. This is really a plus for people who, like me, would rather make due with a hat than carry an umbrella.
SIZE
The actual size is slightly different from the measurements stated by the manufacturer, due to normal alterations in the leather with normal use. This isn't a problem, since the bag isn't suited for air travel anyway, but is really intended exclusively for everyday, around-town use.
WHAT'S IN MY [ONA] #InMyONA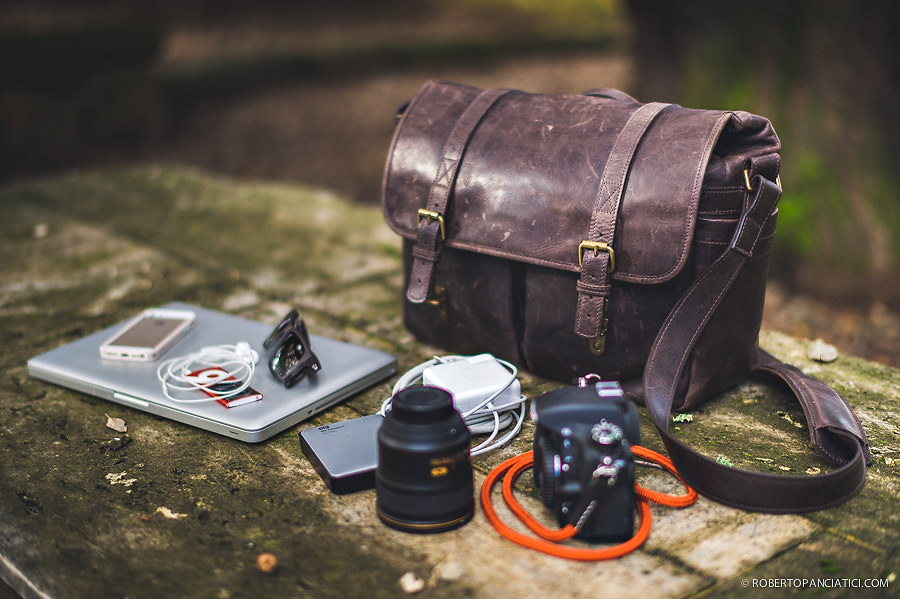 Inside the [ONA] there's enough space all the necessities:

– MacBook Pro 13 with battery charger
– External HardDisk 1TB, Wester Digital
– iPhone 5s
– Rayban sunglasses
– my trusty old iPod
– Nikon 24mm f1.4
– Nikon D750 (See my review and comparison with the Nikon D810)

This bag doesn't look like a classic camera bag, even though it is one. If you're not familiar with it, you'll be surprised to find that it's actually a camera bag for all intents and purposes, with compartments in high-tech material to protect your equipment. I find that [ONA] has really hit the mark with the Brixton line, and anyone who doesn't want to sacrifice style for the safety and convenience of high-tech materials will be thrilled with this bag and won't want to do without it. Personally, I love carrying it – I like how it fits my style and my personality, and at the same time hold everything I need for around-town photography. The only downside is, obviously, the price – over 400 euro –, but to be honest, you won't find many other such well-made leather bags at a lower price, and certainly not with a technical compartment to hold and protect your photographic and electronic equipment.
(The pictures about me are photo courtesy by Riccardo Pieri Photography)



If you enjoyed this post, why not SUBSCRIBE to my blog? Thank you!