This is a real-world review based on my utilization of the camera in the field for about 2 months. Initially I used it mainly with a Nikon D750 and a Nikon D810, but I can also compare it with the Nikon D5 and the Canon 1Dx Mk II, which I also used, until in the end I began doing jobs entirely with the Sony a9 (you'll find links at the end of the review where examples are given). So, I won't limit myself to giving an evaluation of the technical details, but will try to share with you the sensations, both positive and "negative", I have had while using this camera for everyday work (I'm a destination wedding photographer, check my work here). I put "negative" in quotation marks because in some ways, this camera has a real split personality, like "Two Face" from the Batman comics. It's definitely a camera with a lot of plus points to discover, and a few stumbling blocks – as any instrument obviously has -, but some of which can be considered as characteristics, and not necessarily defects. As you read the review you'll understand what I'm talking about.
GENERAL FEATURES
•Sensor: BSI-CMOS (35.6 x 23.8 mm), 24 megapixels
•Image Size: 6000 x 4000
•ISO Sensitivity: Auto, ISO 100-51200 (expands to 50-204800)
•Storage Media: 2x SD
•Continuous Shooting Speed: 20.0 fps
•Max Shutter Speed: 1/32000 sec to 30 sec
•Number of AF Points: 693 AF points
•Wi-Fi Functionality: Built-in
•Weight (Body Only): 673 g
•Dimensions: 127 x 96 x 63 mm
INITIAL IMPACT AND RESISTANCE TO CHANGE
At first glance, the Sony a9 seems small and definitely doesn't give the impression of a professional camera body. The sensation when you use a Sony for the first time, at least for me, is that it's just not very practical – in a lot of different ways. So it wasn't love at first sight by any means! The usual resistance to change that we all feel when we're thinking of switching brands is amplified by really non-user-friendly software interface – the menu is just a jungle -, and a camera body that's not solid and "comfortable" like Nikon, Canon and Leica bodies are (Yes, Leica bodies are really "comfortable" to me). It's important to give yourself time to get to know the camera to get over this initial indifference, because as I mentioned, a lot of aspects of this camera might seem like annoying defects, when in reality they're features to understand and utilize. All of the advantages are waiting there, beyond the initial effort.
IN ACTION
As I said, at first glance, the Sony a9 seems small and definitely doesn't give the impression of a professional camera body. Picking it up doesn't belie this sensation, and the body doesn't transmit a feeling of solidity to the touch, unlike its direct competitors (Nikon D5, Canon 1dx MK II etc), even though the Sony a9 body is made of magnesium alloy. But after just a few seconds… whoa! This camera's lightness is remarkable, especially if you're used to classic DSLRs like I am, and this positive sensation increased exponentially when I realized that, sure, it hasn't got the strong initial impact of Nikon and Canon flagship models, but it certainly has the heart of a flagship, so I couldn't wait to try it!
The ergonomics are pretty good, although the body is small. To give it better stability, or if you've got large hands, you can purchase the external grip with an extra battery case, or the mini grip pictured here below.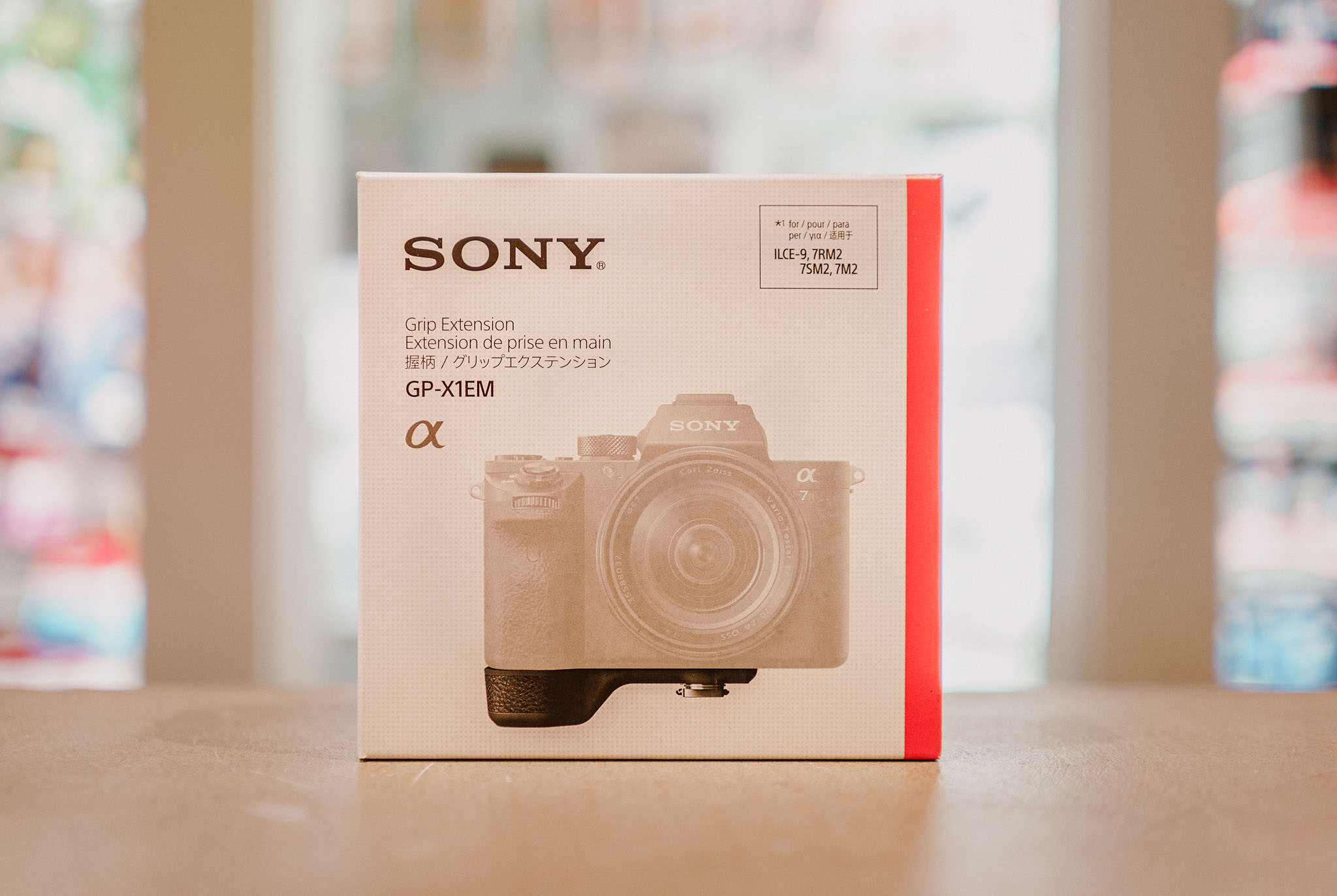 This is a really fantastic, well-made grip, but remember that you can only use it with classic shoulder straps. Because once it's attached to the camera, you won't be able to put on any other types of shoulder straps like Blackrapid, Holdfast etc., or you'll be unable to use a tripod. This is really a shame – all that would be needed to correct the problem is a fastener inserted in the lower part of the grip; there are several empty spaces where it would have been easy to add a small hole with screw, and it all would have been so convenient. Too bad!
The dials on the top of the camera let the user regulate a few basic functions, like the burst-speed intensity (3 different settings: 5, 10 and 20 frames per second) and shot style, the auto focus mode (AF-s, AF-c, DMF and MF), exposure compensation and the camera's various programs (Auto, P, A, S and M, plus three different personalizable settings) and video functions (Video and S&Q).
Right away these dials give me an idea of quick utilization and good practicality. The only dial I would have preferred to have a bit more protruding and more practical is the compensation one, but once you've gotten familiar with it you'll be able to use if well enough. The camera responds very well to commands and is quick to turn on, although obviously not as super-speedy as the DSLR (the Nikon D5 can be considered instantaneous in passing from off to shooting-ready). During a long work day, for photographers like me who are used to turning off the camera after shooting, this could generate some little annoyances, but it's also true that you just need to change your habit and not turn the camera off to avoid this little problem altogether. If you think that might be a problem for the battery, I'm way ahead of you: don't worry! The Sony a9 battery is truly superb, considering that the live view or the view finder are constantly active! I'm not a Nikon D5 user so I'm not used to doing a full-day wedding with a single battery, but I've been able to do just that with this camera. On average, with the Nikon D750 and/or the Nikon D810, on which I use the live view a lot, I consume a battery and a half per camera, but with the Sony a9, after 10 hours I still had 26% charge remaining, and that makes me think that having two batteries is the perfect solution to keep all problems at bay and guarantee you can work worry-free a full day of 2 or more shootings with no need to recharge, which is important for me given all the traveling I do.
MONSTER vs MONSTER
The Sony a9 is the first full frame mirrorless camera that can really compete with the best DSRLs in the market.
MENU AND PERSONALIZATION
The menu is a real labyrinth, but it's also full of buried treasures. Because while on the one hand it's complicated and tedious, on the other it offers a lot of possibilities. The first step, though, is to understand its logic. For example: if you select shooting with backup, the option I always use during work sessions but never for personal use, the camera won't shoot if you don't have two memory cards in the slots. That means you have to turn off the backup option whenever you want to use the camera for personal uses – or to always do the backup -, but there's always the risk you may forget to re-activate it when you go back to work. With Nikon, and I think with Canon as well (I'm not sure about it), it's all much easier: once you've set the camera on backup, it sill make the two copies if there are two cards in the slots, otherwise it'll save the photos on a single card. Easy! But the Sony logic isn't necessarily a defect, because the camera might save you if you want backup but have forgotten to insert the second card. So it all depends on your point of view.
A suggestion for using the menu: create your own simplified menu, so you don't have to go looking through all the menu items every time.
The camera is completely personalizable in terms of buttons, not only the individual functions, but also with multiple combinations of functions that can be activated and deactivated at the press of a button. This Sony personalization feature is amazing, in my opinion. Once you've found the right key to using it to meet your needs, it'll be really hard to do without it. The camera has 3 C1 and C2 buttons on the upper part near the shutter button, C3 on the left side of the back and AF-ON on the right side. You can also have 3 different personalizations selectable with the dial on top of the camera. This gives you flexibility, and is definitely another big point in favor of the Sony a9, but maybe of Sony cameras in general.
AF SYSTEM
Hell yeah!!! This camera's AF system is absolutely extraordinary – anybody switching from a Nikon, like me, but who doesn't usually work with a Nikon D5, will be flooded with a great and uncontainable joy. For those who do work with a Nikon D5, known that the Sony a9's auto focus is superior to the Nikon flagship's in certain conditions, and worse in others (low light), so you'll have to weigh the pros and cons depending on what your main utilization is and decide what's best for you. In my own experience, the number of photos I take in low light is definitely tiny compared to the number I take during the day, so this makes the issue irrelevant for me. In any case, this drawback can be completely overcome if you use an af assistant like flash, or the in-camera one, which the flagship ones don't even have (who knows why).
THE AF-C ERA HAS BEGUN
There are numerous strong points to this AF system, and I would challenge anyone not to get attached to an AF with more than 600 focus points throughout the frame. I know, some of you – like the undersigned – are used to using only the central focus point and then re-composing the photogram. That's what I thought the first time I used this camera – but I hadn't tried the eye focus yet, this camera's AF with facial recognition and subject tracking. With the Sony a9, the AF-C era has officially been ushered in, at least for me. Tracking is really precise – better than any other camera I've ever tried during the course of my career. Subjects are quickly caught and the camera doesn't let them go, no matter how fast they move. For the first time in my life, I feel sure of what I'm shooting, a sensation I don't recall having had while using mainly the Nikon D750 and Nikon D810, and this sensation of surety gives me enhanced confidence on the job, as I don't have to worry whether photos are in focus or not. I just shoot!
If we consider that the only cameras comparable to this Sony a9 in terms of auto focus performance are actually the Nikon D5 and the Canon 1Dx MK II, which weigh respectively 1,415 grams and 1,530 grams versus the 673 grams of the Sony a9, I'd say I definitely made a good choice here, given that I travel a lot and hate having heavy, bulky equipment in my backpack!
EYE FOCUS
The eye focus deserves not only a "whoa," but also a little discussion of its own. It's precise, fast and extremely functional. I'm crazy about this function, the only drawback of which is that it sometimes doesn't choose the nearest eye. Personally, I've set it in the AF-ON button, and I activate it when I need it. For me, this function is the camera's umpteenth game changer. Obviously, and this goes for face detection as well, you need to utilize it properly, i.e. not in the middle of a crowd of people.
Note: Nikon has announced the arrival of the Nikon D850, which should have the same AF module as the Nikon D5, so I may need to do an update about this in the future.
SHUTTER: SPEED/NOISE/TYPES
The Sony a9 has two different types of shutters; the electronic one reaches 1/32000, and I'd say that already just about closes this chapter with a great big whoa! In my work I exclusively use prime lenses, so all very bright lenses, and being able to shoot in full aperture even with strong light is really a lot of fun, as well as a great practical advantage. The camera is just a whole different animal than models like the Nikon D750 or the Canon 6d, which only reach 1/4000, making it technically impossible to obtain the same results in terms of yield. And the comparison also holds for cameras with 1/8000 shot speeds! So this Sony is absolutely a game changer!
The mechanical shutter, which only makes sense for flash synchronization and to shot over 25600 ISO, reaches 1/8000 like those of many competitors, but I immediately deactivated it because it's useless to me 95% of the time. The electronic shutter can also be set to silent mode, and I can assure you that being able to shoot in absolute silence is yet another game changer – once you've been able to work while preserving the atmosphere and without creating the slightest annoyance, it's hard to go back to anything else! Still, I did personalize a button to reactivate the sound, because sometimes it's important for the people you're photographing to hear the click so they react in some one when a photo is taken. When the electronic shutter is in silent mode, you can view 4 different signaling modes, more or less invasive, to understand when you're shooting.
BUFFER
The Sony a9 buffer has a technical limit of 260 raw, which are completely downloaded in about 35/40 seconds! Translated into practical terms, this means that the buffer, if you use a good memory card, has no limits! What can I say? Fantastic! The only drawback with this buffer, which I hope Sony corrects in the next version of its firmware, is that during the downloading operation, there's no way to access the camera's menu. Frankly, I don't know why. It doesn't block the camera's function, though, or at least it hasn't yet in my experience.
TILT SCREEN AND LIVE VIEW
The tilt screen is plainly excellent for photographers like me who shoot mainly using live view. Its only "limit" is that it doesn't lay down completely flat, as the Nikon D750's does. The AF speed in this mode of utilization is far better than any Nikon or Canon body (the best DSLR I have ever tried in terms of shot speed in live view is the 1Dx MK II), and it's fun and super fast. What's more, there's no screen blackout during the shot phase, which is so freeing for me! The luminosity and definition are excellent, even in strong light, where I do, however, always prefer to use the internal finder, which guarantees greater control of the scene.
A suggestion: given the how easy it is to accidentally scratch the live view screen, I recommend you use a protective screen. I use this one, which is extremely easy to mount and can save you from scratching and breakage: screen protector
DATA MEMORIZATION
The camera, as I mentioned above, has a double slot for SD memory cards, and this allows it to be the first full frame mirrorless on the market to date with backup capacity! This is no small thing, and it's a sign that Sony wants not only to innovate, but also to listen to photographers' needs.
DYNAMIC RANGE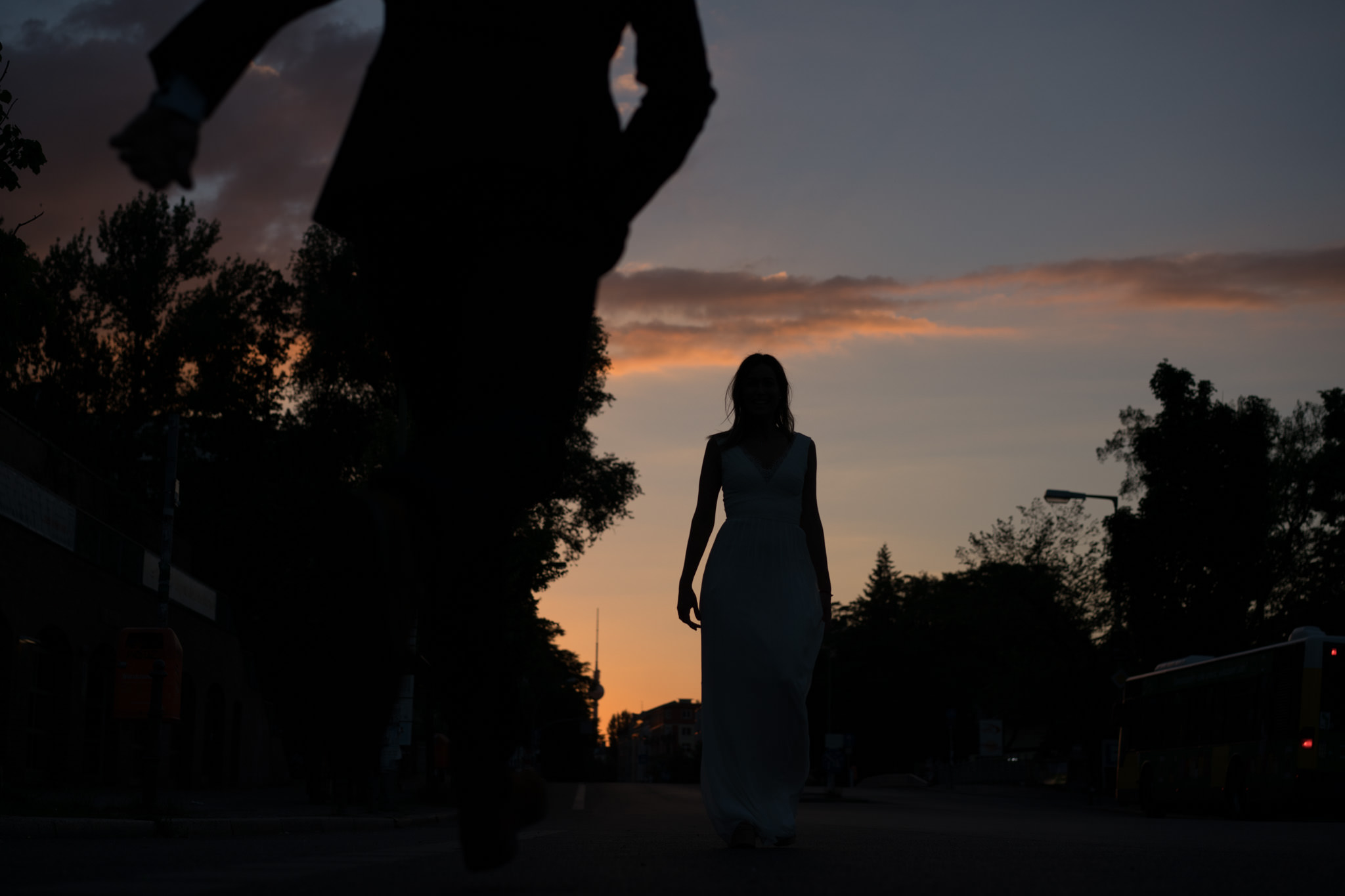 Sony a9 files are excellent for my purposes. Sure, it's not the Nikon D810 – which is incomparable right now at low ISO – , but there are so many other positives that the dynamic range of "only" 3+ stops doesn't make me miss the Nikon D810 files at all. My sensation is that shadows are more easy to make up for than strong, high light; I don't know if that's actually technically true, but it's my impression. So the dynamic range is not particularly surprising, but it serves its purpose.
Note: the picture is without any noise reduction filter.
HIGH ISO PERFORMANCE
The camera isn't outstanding at high ISO; I use it up to 12800 ISO, but I make sure the exposition is correct when I'm working in low light.
Raw files here: high iso samples
DURABILITY
This is obviously just a hypothesis, since no-one can say whether the camera will last an average amount of time, or be worse than others in this sense, but I can mention a few considerations. The Sony a9, after just a couple of months of use, is already showing the first hints of color loss, which is certainly not a good sign. I'm surely not an average user – I usually shot between 40 and 60 wedding per year + engagement/portraits sessions (I usually use Leica for my personal work) -, nor a person who takes the greatest care of his equipment, but when the casing has already begun to lose color after such a short time, this alarms me somewhat. But there's something else to consider, which is that, having fewer mechanical parts that its competitors (there's no mirror), it should have fewer parts subject to wear, and thus to breakage. We'll see!
Suggestion: as I mentioned in the section on "Live view", I strongly suggest putting some sort of protection on the display glass.
SAMPLES (More samples are coming soon)
Full Sony a9 rooftop intimate wedding in Berlin (Lenses: Sony 28 f2 and 55 1.8): CHECK IT OUT!
FINAL CONSIDERATIONS
I'd been looking for a camera like this for a long time, and I'm glad I had the chance to test it out right when it came on the market. I'm one of those people who's convinced that pretty much every camera on the market today is capable of guaranteeing excellent results – in fact, what I mainly evaluate is portability, weight, ease of handling, operational sureness and, or course, whether it's fun, and this camera is great fun! The Sony a9 is the first-born of a new era, an era when we can finally consider the mirrorless camera suitable for professional photography with no reservations. It's certainly not an immediately user-friendly camera – it takes time to get to know and understand it -, but that's not necessarily a negative thing. It's quite possible to get to the point where you can use it without even looking at it, just like with more "accessible" camera bodies. Sure, it's not perfect, but hey, does the perfect camera even exist?